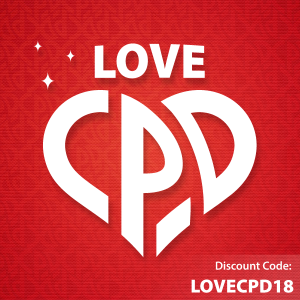 To celebrate the launch of its new CPD booking system, The College of Animal Welfare (CAW) is offering 20% off all CPD courses when booked online this Valentine's week.
The offer is available from Monday 12 February to Sunday 18 February 2018 inclusive and can be claimed by entering the code 'LOVECPD18' at the checkout. With CPD courses starting from just £49 for a half day course at early bird rates, this means CPD at CAW booked during the week now starts at just £39.20!
The new online, mobile-friendly, booking system boasts new features including searching for courses by location, days of the week or by price; and allows you to create an account to manage your bookings and view/download your CPD certificates.
Tracey Croucher, Short Course and Events Manager at CAW, said "We have already received some great feedback on our new CPD booking system with people finding it much easier to find and book courses.  We are confident that the new system will provide a quality CPD experience, from booking right through to certification".
To take advantage of the offer, visit www.caw.ac.uk/cpd between the 12 and 18 February 2018 using code LOVECPD18 at the checkout. Terms and conditions can be found below.
Terms and conditions – LOVECPD18
Below are the Terms and Conditions for The College of Animal Welfare's LOVECPD18 offer running between the 12 -18 February 2018.
The code LOVECPD18 will provide a 20% discount off of CPD courses run by The College of Animal Welfare when booked between Monday 12 February 2018 to Sunday 18 February 2018 inclusively.
The discount can only be claimed when bookings are made online at http://cpd.caw.ac.uk through the accessplanit checkout at the time of booking.
We reserve the right to end, or modify, this offer at any point at our discretion.
It is the responsibility of the delegate to ensure that the course they enrol on is suitable for them.
All other standard The College of Animal Welfare Terms and Conditions apply.
Discounts are non-refundable and cannot be exchanged for cash.
© The College of Animal Welfare 31 January 2017.