When I first started in Veterinary Nursing many, many years ago we were over used and undervalued. Fortunately, I worked for a practice that valued their nurses and wanted us to excel, so we were encouraged to take the Veterinary Nursing qualification. This made us 'hungry for knowledge' and we felt proud to become a Qualified Veterinary Nurse. We felt confident when challenged by the general public and other veterinary staff that we not only knew the practical side to the job, but also the theory behind it all. The theory side to the nursing qualification was like the final piece in a jigsaw puzzle, making everything fit together.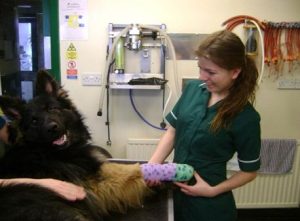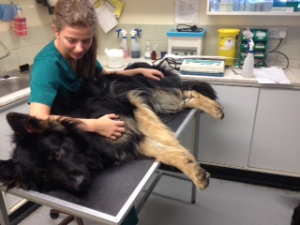 Over the years we have trained in excess of twenty nurses which has provided them with a qualification ready to begin their career as an RVN. Those that have stayed with us are valued team members, each playing an important role in the practice.
To get the best out of your staff you have to put a little in. Coaching the nurses is very rewarding, where you can pass on knowledge and little tips on how to do things such as calming a nervous dog, giving tablets etc. This may seem like its not important but I feel every member of staff has something to add to the training even if they are not a clinical coach.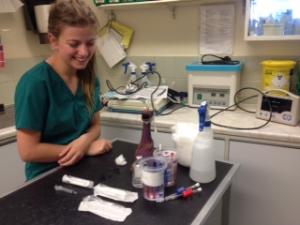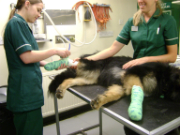 Training is a team effort with the clinical coach acting as a coordinator for gathering the evidence. At the end of the course you will have a valuable member for your practice. We have always found the training fits well into practice life with the right coordination of rotas and staff.
The key to good students is to work with a good college. We are fully supported throughout the course by The College of Animal Welfare. The staff are always on hand for any queries and the trainees get excellent support throughout the course. The lectures are now improved so that they are covering theory alongside the nursing progress log (NPL) which improves the knowledge of the trainees as they progress throughout the course.
If you are new to training nurses then do not worry, working with The College of Animal Welfare, you will be supported throughout it all and even if you have been out of studying for a while, the theory all comes flooding back, just like riding a bike!
It is incredibly rewarding seeing new students return from college with a renewed interest in their work and I guarantee your staff will be more enthusiastic and committed once they have a goal in sight.
Wendy J Taylor RVN DipAVN(Surgical) DipAVN(Medical) MBVNA