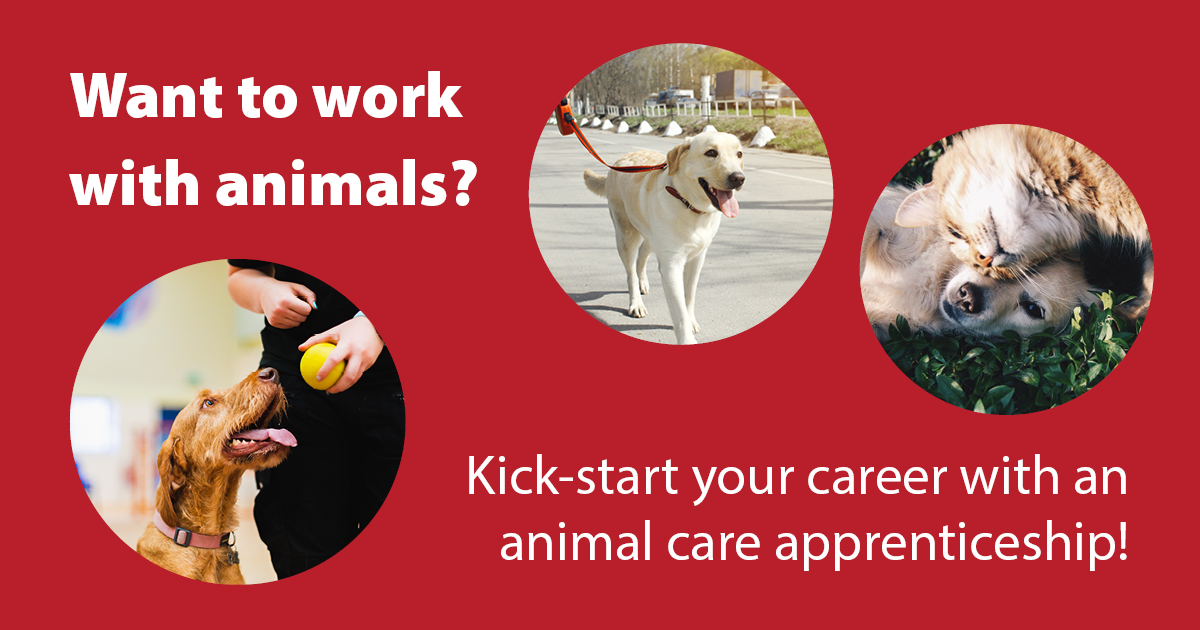 It's National Apprenticeship Week!
If you've always wanted to work with animals, have you considered making it happen by undertaking an animal care apprenticeship?
Contrary to popular belief, apprenticeships aren't just for people new to a job! They are a great path for people at any stage of their career – from those re-entering the workforce, to those wanting to reskill or change careers.
Our new animal care and welfare assistant apprenticeship programme can give you the opportunity to gain work experience in an animal care environment, and give you the key practical skills and knowledge needed to kick-start a career in the industry. What's more…
You'll get paid for making the world a better place for animals – right from the get go!
As an animal care apprentice, on-the-job training means you will be paid for your efforts, and benefit from having a regular income. Apprentices will immediately start earning a wage when they begin employment.
Your employer will cover the cost of your training! 
An animal care apprenticeship is a debt free route to a career in animal care. Not only will you be earning a wage, you will have no course fees to pay as these are all paid by your employer! In other words, you will be gaining valuable experience in the workplace for FREE!
You can start at any time of the year
as you do not need to attend college. Instead, all your apprenticeship materials will be delivered via our Virtual Learning Environment (VLE) and you will be allocated a work-based learning assessor who will support you throughout the qualification via email and telephone contact and regular visits to your place of work.
You will benefit from tailored learning
The apprenticeship will allow you to study core knowledge, skills and behaviours and then choose a specific pathway depending on your job role and interests. You can choose from rehoming, animal interaction and handling, wildlife rehabilitation, breeding – and many more.
Why choose The College of Animal Welfare as a training provider?
The College of Animal Welfare has a well-earned reputation for excellence. Your apprentice will benefit from:
Tuition, support and assessment provided in the workplace, online and via email and telephone contact
Support and guidance from an allocated, qualified Work-based Learning Assessor
Access to our unique Virtual Learning Environment (VLE) and extensive eLibrary resources
If an animal care apprenticeship is the route for you, the first step is looking for an animal care apprenticeship vacancy and understanding more about the programme. Take a look at these sources to get started:
The College of Animal Welfare is hosting its popular Careers with Animals Day at its centre near Huntingdon on Saturday 30 March 2019! Don't miss out on the opportunity to find out more about the training and employment opportunities within the veterinary care and animal care sectors. Entry is completely free of charge! Find out more at www.careerswithanimals.co.uk