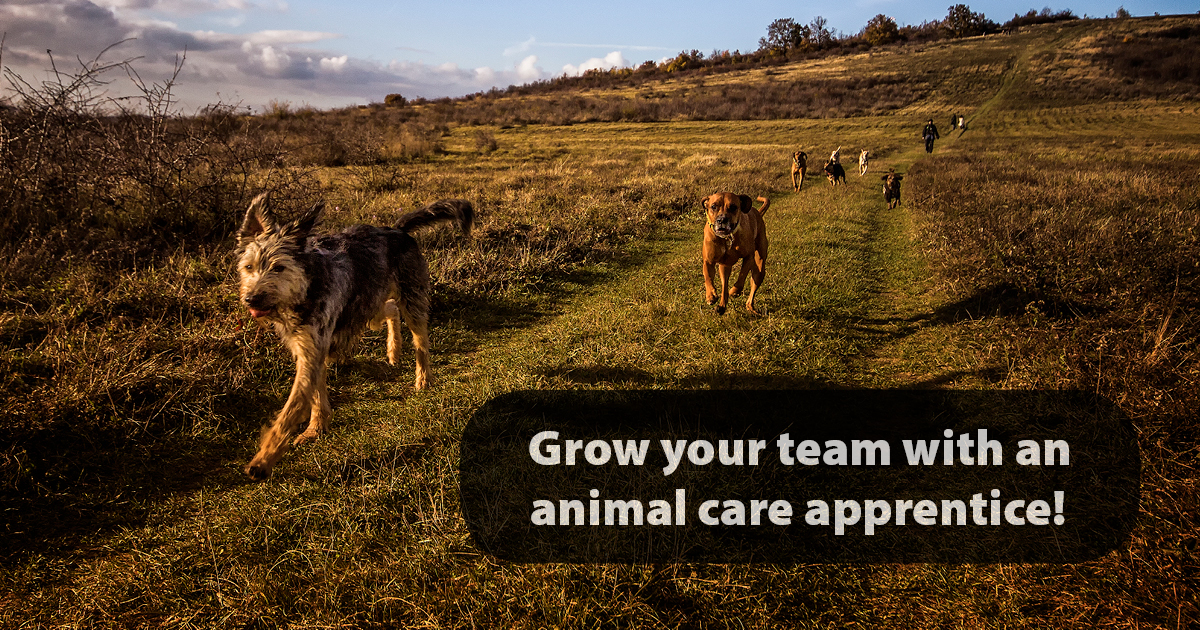 It's National Apprenticeship Week!
If you're looking to expand your team and take your business to the next level, there's no better way to do so than investing in an animal care apprentice!
With the National Minimum Wage for Apprentices being just £3.70 per hour, it really is an affordable way to take on new staff. You will also be providing valuable experience and training opportunities for someone keen to start working with animals. What's more…
You will cut your recruitment costs!
Boosting your team with an apprentice is a great way to bypass the added recruitment costs associated with outsourcing or recruiting skilled labour. You can save even more on recruitment costs when you take on an apprentice with The College of Animal Welfare. As part of the recruitment process, we can advertise, filter applications for you and even arrange your interviews if you wish – all for FREE! Take a look at the recruitment process
No need to attend College! 
As our apprenticeship programmes are work-based, you will not lose your apprentice to college time. Instead, all their learning will be delivered in the work place with support from a Work-based Learning Assessor. They will visit your apprentice on a regular basis, and provide telephone and email support between visits. Even better – apprentices no longer have to be full-time employees and can undertake an apprenticeship part-time too!
Gain an extra pair of hands for less!
Employers who take on an apprentice aged between 16-18 years of age will also receive a £1,000 incentive towards training fees. Further reductions available for organisations with less than 50 contracted employees. And, with the National Minimum Wage for Apprentices standing at £3.70 (April 2018), you can develop an apprentice for much less than it would cost to recruit for qualified labour.
Grow an employee who meets your business needs! 
Our apprenticeship will allow your apprentice to study core knowledge, skills and behaviours and then choose a specific pathway depending on their job role and interests; allowing you to tailor your apprentice to specific business objectives and needs.
Why choose The College of Animal Welfare as a training provider?
The College of Animal Welfare is one of the UKs leading providers of veterinary nurse and animal care training.
We are very proud of the fact that all of our staff delivering our animal care courses have significant industry experience and knowledge under their belts; they all share a common passion for pushing the profession forward.
Your apprentice will learn all the skills and knowledge needed to drive your business forward and become the best animal carers they can be. They will benefit from…
Tuition, support and assessment provided in the workplace, online and via email and telephone contact
Support and guidance from an allocated, qualified Work-based Learning Assessor
Access to our unique Virtual Learning Environment (VLE) and extensive eLibrary resources
If you would like to speak to a member of our team directly regarding animal care apprenticeship training, please contact us at admin@caw.ac.uk or on 01480 422060.
Further sources
Not looking to recruit? Develop your current staff instead!
Contrary to popular belief, apprenticeships aren't just for people new to a job! They are a great path for people at any stage of their career – from those re-entering the workforce, to those wanting to reskill or change careers. If you would like to train an existing member of staff, your employee will need to select the programme they are interested in and apply online.